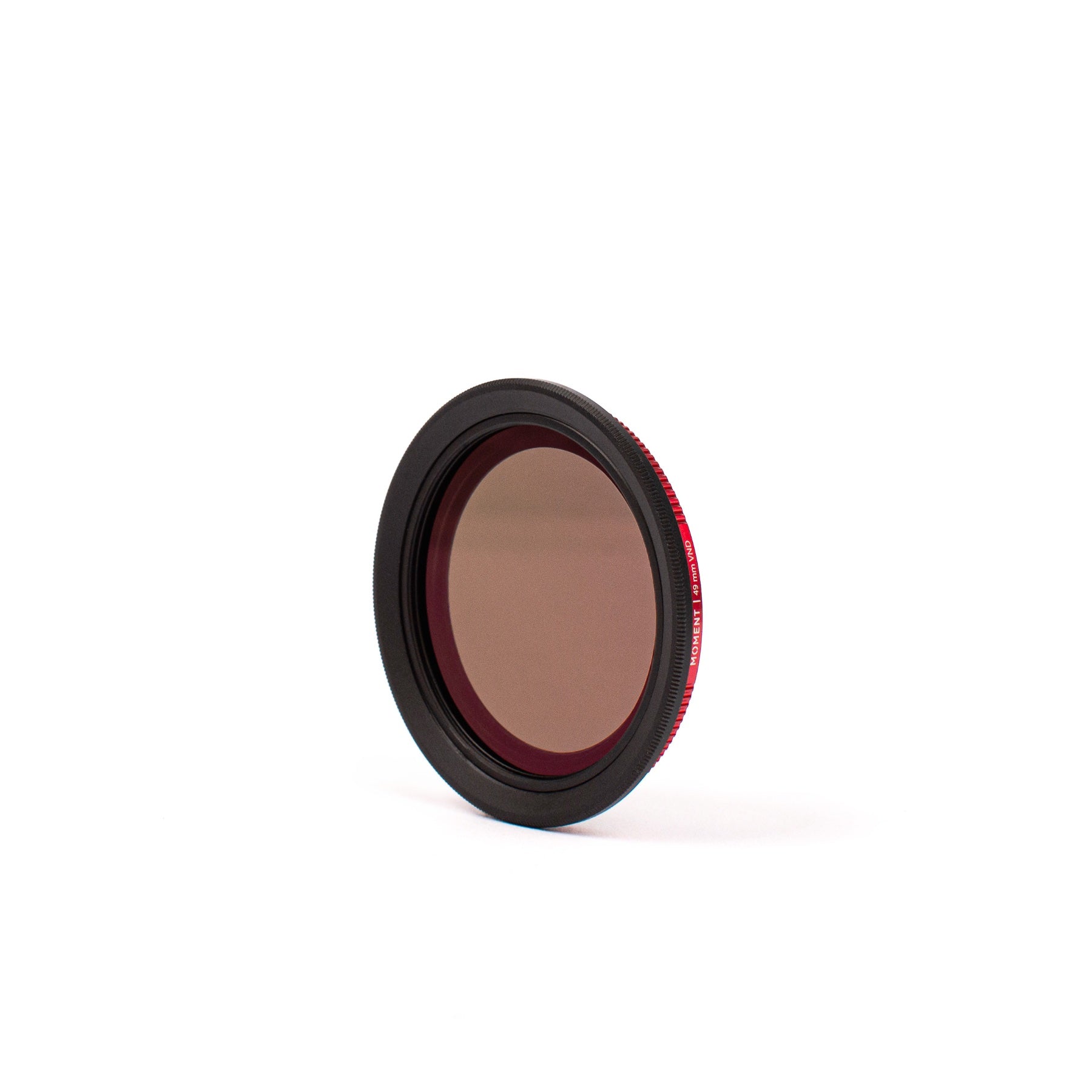 Moment Variable ND Filter
Save

Liquid error (snippets/product-badge line 36): Computation results in '-Infinity'

%
Accurately control your exposure with the Moment VND filter, made from premium Schott B270 Pro Cinema glass
Description

What it is:

Moment Variable ND filters are like sunglasses for camera lenses. These are variable so you can adjust the strength of the filter by rotating the filter ring.

Why it's needed:

These are great when you shoot photos or videos in bright light. For example, when you want to shoot slow motion ND filters limit the light so you can use higher shutter speeds. As these Moment filters are variable you can use one filter for multiple lighting conditions.
Features & Compatibility

Features

German Schott B270 Pro Cinema Glass for superior optical clarity
Available in both 2-5 stop (ND4 - ND32) and 6-9 stop (ND64- ND512) ranges
Advanced optical coatings for cinematic color and rugged durability
Precision tuned to never cross polarize
Hard stops on both ends of the stop range for more precise control
Works with any standard center-pinch lens cap (like the one you already have for your camera lens)
Works with the 67mm Filter Mount and 67mm Filter Adapter and M-series Lenses
Works with step-up/step-down rings, like this 62mm-67mm one here
Laser etched markings allow you to see your stop from behind the viewfinder
Body machined from aerospace grade metal to withstand use, drops, and adventure
Knurled grip texture for more control and easy removal from lenses
Conical geometry acts as a micro lens hood, cutting unwanted glare and reflections
Includes a foam lined, metal carrying tin for protection on the go and a microfiber cleaning cloth
Info

Manufacturer: Moment
Materials: Schott B270 Pro Cinema Glass with aerospace grade metal
Compatibility:Standard camera lens sizes 49-82mm. Phones with filter mounts
Lens Cap Compatibility: Standard Center Pinch Caps
Compatible Focal Lengths: 16mm and above
Works with: Moment 67mm Filter Mount
Dimensions and Specs

Glass

Filter Glass: Schott B270 Pro Cinema Glass
Filter Coatings: 16 layer anti-reflective coating along with 'Liquid Glass' surface treatments for anti-static, hydrophobic, and scratch resistance

Dimensions

Thread Size: 67mm, 77mm, 82mm
Outer Diameter: 67mm — 81.16mm / 77mm — 91.16mm / 82mm — 96.16mm
Depth: 67mm — 9.05mm / 77mm — 9.05mm / 82mm — 9.05mm
Weight: 67mm — 39.7g / 77mm — 47.9g / 82mm — 51.8g

Build

Adjustment: Rotation with hard stops to prevent cross polarizing within the working range
Filter Range: 2–5 Stop = ND4–ND32 / 6–9 Stop = ND64–ND512
Frame Material: Aerospace Grade Aluminum
Which Version Should I Get?

2-5 Stop (ND4-32)

Works well if your standard outdoor conditions. Cloudy, partly sunny, sunrise/sunset
Great for shooting slow motion when you have to turn your shutter speed up
Shoot with this one when there is less light available. In trees, in shade or on a hike, when you are shooting indoors.
Works well in most lighting conditions to control shutter speed for photo or video
Perfect for everyday videography, vlogging, and YouTube style content creation

6-9 Stop (ND64-512)

Great for shooting in super bright lighting conditions
Sunny beach days or bright snowy days on the slopes. Desert conditions.
If you want to shoot at a high aperture like f/1.4
Great for getting the slowest possible shutter speed for long exposure photos in the daytime
If your camera has a high base ISO
Without a Variable ND Filter
Without an ND filter you have to use a faster shutter speed to take a photo, so the water looks static. Using a slower shutter speed here makes the photo overexposed (too bright).
With a Variable ND Filter
With an ND you can achieve this smooth water effect, by using a slower shutter speed. An ND filter limits light, making the photo properly exposed.
Premium Glass
We chose Schott B270 Pro Cinema Glass to maintain maximum optical quality and create crisp images.
A New Level of Control
Our unique geometry and laser-etched graphics allow you to see which stop you're shooting from behind the viewfinder. This allows for faster control and easy starting points for your shots in different lighting conditions.
Zero Cross Polarization
We specifically engineered the rotation of the filter to have hard stops at both ends of the working range, preventing unwanted cross polarization.
Aerospace Grade
The filter metal is machined from aerospace grade aluminum for lightweight performance and rugged durability.
Works With Your Gear
Not only do our Variable ND filters work with standard camera lens thread sizes, they also work with the standard center pinch lens caps you already have for your camera lens, unlike other options on the market.
The 67mm VND also works with our 67mm Filter Mount so you can take your mobile videos to the next level.